February 2011
1 February 2011, around 20.53.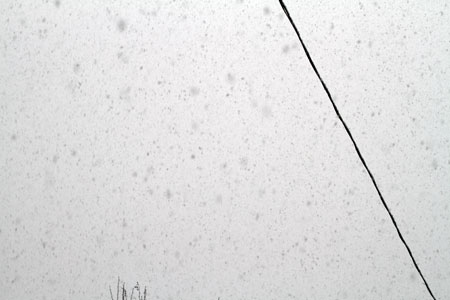 Guests were supposed to arrive in the afternoon, but the constant snow made the passes dangerous and the roads, if not actually closed, perhaps should have been.
The students were restive and fussy, as were the teachers. Snow kept falling, and managed to find the gap between my scarf and the back of my neck. The school library keeps unpredictable hours and, though I was able to take some books out before class, I couldn't return the books I didn't need, and had to carry them home – not an arduous task, but one that rendered the accompanying desire to carry home six eggs, unbroken, in their frail bag slightly more onerous.
At the grocery store they were watching a film on the TV that is on the refrigerator next to the door. Dewy smiles abound. Bread is 200 AMD, and eggs are 60 AMD apiece, butter is 600 AMD for 200g, and buckwheat 1000 AMD a kilo.1
When we arrived in town in 2008, bread was 150, eggs were 30, butter was 450, and we weren't buying grechka. [↩]
5 February 2011, around 20.15.